Susadaï !
Welcome at Villa Koh Dach Guesthouse
The Cambodians call it the "Separate island". The English called it "Mekong Island", the French "Island of Silk". Koh Dach is an unspoiled charming island in the middle of the Mekong. You will meet the friendly Khmer people and be immersed in a different age almost untouched.
Next to the vibrant Phnom Penh, take a break away, come and relax in a peaceful and preserved environment, discover traditional Cambodia, be a guest at Villa Koh Dach Guest House, a friendly guesthouse hidden in the vegetation at the north of the island.

Because of the quality of our welcome, of our cooking, and of our accompagnied excursions, Villa Koh Dach is a must for all travellers in Cambodia in search of immersion with the local rural population, combining cheap rates and western standards of comfort.
Phnom Penh International Airport is only at 18 km. We can provide a pick-up airport.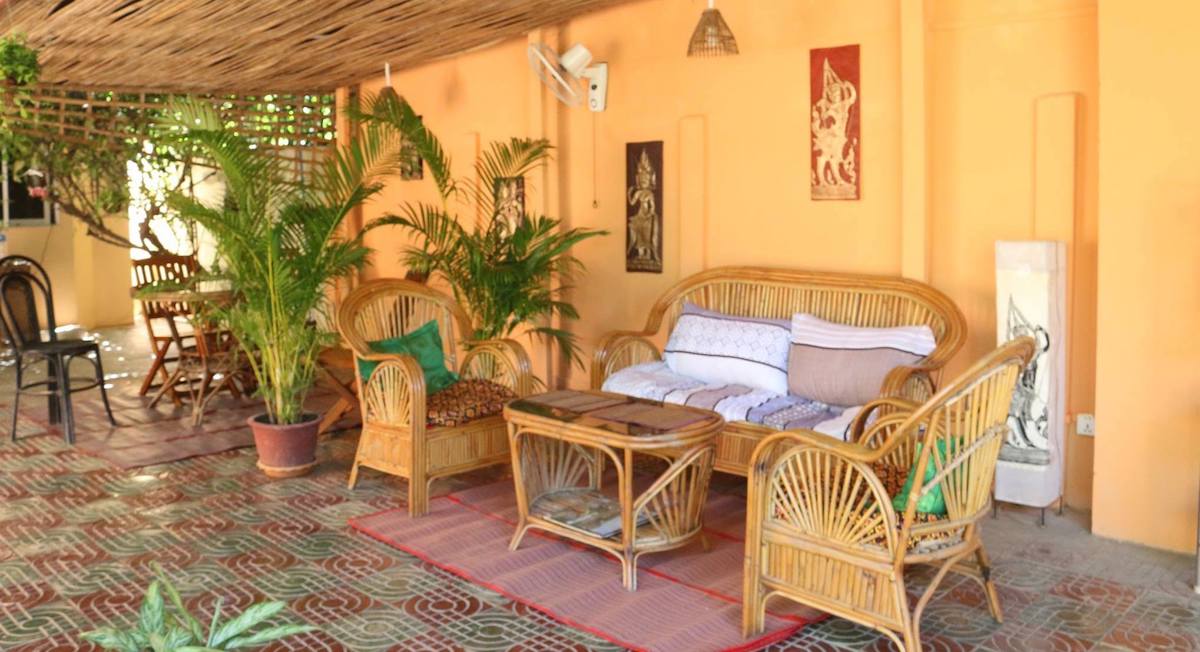 A haven of peace hidden in the nature
In 2007 Villa Koh Dach was the first guesthouse to be created on a Mekong island in Cambodia. Several years of activity in contact with the travellers and the arrival of electric power on the island provided favourable conditions for an extension of the guesthouse.
Our accomodation
The Villa Koh Dach offers six different bedrooms. All rooms with fan, include a private bathroom fitted with a shower and toilet. The two big rooms can have air-conditioning in extra.
Our services
The Villa Koh Dach Guest House is equipped with free Wi-Fi and we have a private car-park, free for our guests.
Our french-cambodian restaurant proposes traditional dishes, french cooking, and vegan dishes.
You will appreciate to have a drink and discuss about the next days of travel around the Villa bar, on-site.
Another way to discover Cambodia
It is an opportunity to be received as a friend in a Khmer family.
We provide a bike-rental service for our guests, the area is popular for cycling.
We proposed accompanied tours to discover the charm of this small island and its surroundings.
| | | |
| --- | --- | --- |
| On bicycle | | Visiting with our team |
The team
Meng and Franck co-manage the Guest House. They will give you tips in French, English or Spanish, to visit the island, and for the rest of your trip.
Vana, Bô's mother, speaks French and joins them in high season.
Meng's wife Bô cooks delicious dishes according to the market.
They do all their best to make your stay happy.
Welcome at Villa Koh Dach Guest House!
| | | |
| --- | --- | --- |
| Franck | | Meng |
| | | |
| --- | --- | --- |
| Vana | | Bô |